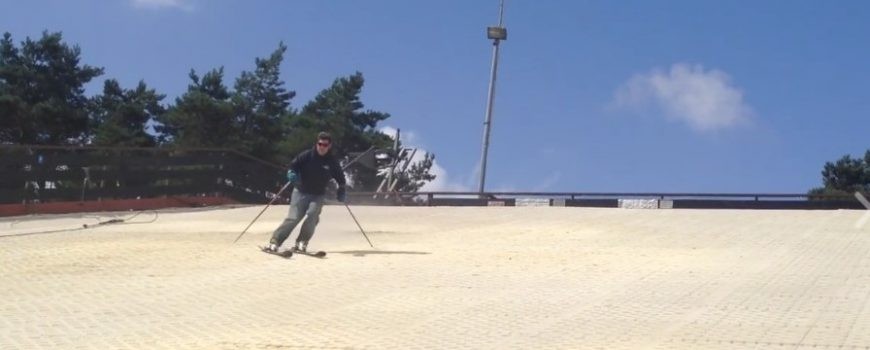 Synthetic or "Dry" Slopes as they are called in the United Kingdom, have been around since the 1980's. They were originally developed to mimic skiing on snow in regions that typically don't receive natural snow and/or aren't cold enough to make snow. According to www.SkiTurfUSA.com, there are an estimated 1,200 synthetic slopes used for skiing, riding and tubing worldwide.
Types of Synthetic Slopes
Dendix is the the original synthetic slope, made up of a brush-like texture. They are hexagon-shaped and contain about a four inch gap, and while skis stay on top of the material the large gap does pose a risk for finger and thumb injuries. Having been around for so long, Dendix has the most installations world wide.
---
​Gloucester Ski and Snowboard Centre. Photo courtesy of Urban Snow


Snowflex is a plastic bristle-like surface that has a layer of cushion, making it much more user friendly for freestyle and jumps. Snowflex is designed and constructed by Briton Engineering Developments. The Liberty Mountain Snowflex Center, on the campus of Liberty University in Virginia.
Liberty Mountain Snowflex Centre, Photo courtesy of Liberty University


Neveplast is constructed in Italy and began producing synthetic slopes in 1998. In the summer of 2016, Neveplast was installed at Buck Hill, Minnesota and now offers North America's only year-round synthetic ski slopes.
All synthetic slopes work best with proper lubrication. Most ski centers either have either installed a misting sprinkler system (usually underneath the surface) or regularly spray down the slope with hoses.
Uses of Synthetic Slopes
Synthetic slopes are used for a plethora of different disciplines including freesking; freestyle and terrain features; race training; moguls and quarter/half pipes. At some ski resorts, synthetic slopes have been used for the loading/unloading ramps of chair lifts.
Synthetic Slope Ski Scene
In the United Kingdom, there is a burgeoning community of skiers and riders. In November 2016, the documentary "God Saved the Scene" was released to chronicle the region's "dry slopes" and its hardcore followers.
The Future of Synthetic Ski Slopes
While synthetic slopes are very popular in the United Kingdom, Netherlands and other parts of the world, they are only a handful that have been installed in North America. As fluctuating weather patterns and rising expenses continue to challenge ski areas, look for more synthetic ski slopes to be installed.
Buck Hill, Minnesota, Courtesy of Buck Hill

Proslope's ProSno(TM) matting has been designed to meet the needs of snowsports enthusiasts of the 21st century. The surface is diamond shaped and like Snowflex, there is a layer of cushion underneath. Thanks to its design, it feels natural to carve thanks to a progressive, bristle height design.
Snowtrax Skiing and Snowboarding Activity Centre, UK, Photo courtesy of Urban Snow